THE LEADING NETWORK OF INSPECTION ENTITIES IN ENVIRONMENTAL CONTROL
Environmental Controls under ENAC Accreditation
Eurofins Environment Testing Spain has accredited centers to perform inspections, controls and field work under the guarantee of ENAC accreditation. We have centers accredited as ENAC Inspection Entity according to UNE EN ISO/IEC 17020 standard for the performance of environmental controls and inspections in the following areas: Waste, Water, Soil, Landfills. We also carry out controls accredited by ENAC in the field of Atmosphere and Noise.
Our ENAC accreditations allow us to offer our clients all the guarantees of quality and rigor in the controls and inspections we perform, responding to the environmental needs of all sectors of activity and with the maximum territorial scope.
Accredited Water Controls
We have centers accredited by ENAC as Inspection Entity under the UNE EN ISO/IEC 17020 Standard in the field of water and discharges for taking simple or punctual, integrated, composite samples depending on the time and composite depending on the flow.
Our maximum scope in the field of water includes the inspection of wastewater, inland surface water, groundwater and marine water.
We also have centers with Accreditation in the Protocol of Spill Inspection for Collaborating Entities of the Hydraulic Administration in all the inspection objectives.
We are also a Collaborating Entity of the Hydraulic Administration (ECAH).
Accredited Waste Controls
Our network of territorial centers has Inspection Entities Accredited by ENAC according to UNE EN ISO/IEC 17020 for waste characterization and determination of hazardous characteristics.
We are accredited for the inspection, control, sampling and characterization of waste for its admission to landfill.
We also have ENAC accreditation for control and monitoring in the phases of operation and subsequent maintenance of landfills, according to Annex III of Royal Decree 646/2020.
Accredited Soil Testing
Eurofins Environment Testing Spain has centers accredited as Accredited Inspection Entity by ENAC according to UNE EN ISO/IEC 17020 in the field of contaminated soils and their associated groundwater.
We perform all types of comprehensive soil and groundwater contamination studies under ENAC accreditation.
Our accreditations in the field of soils guarantee the highest quality and thoroughness in the execution of our work.
Accredited Atmosphere Controls
Our accreditations in the field of atmosphere allow us to carry out ENAC accredited controls in the field of emission, immission and Automatic Measurement Systems (AMS).
We have centers with ENAC Accreditation for the measurement of pollutant concentration in emissions into the atmosphere of multiple parameters and for all types of sectors, as well as for the performance of air quality measurements.
We also have centers with ENAC Accreditation according to UNE EN 14181 for the calibration of Automatic Measurement Systems SAM.
Accredited Noise Controls
In the field of environmental noise we perform environmental noise pollution measurements accredited by ENAC according to UNE EN ISO/IEC 17025 in all sectors and areas.
With the environmental noise measurements under ENAC accreditation we assess compliance with applicable legal limits for each specific case.

ENAC Accredited Laboratories
In addition to our field work, inspections and controls under ENAC accreditation, we have a network of laboratories accredited by ENAC according to UNE EN ISO/IEC 17025 as Testing Laboratories in the Environmental sector. This allows us to complement in an integral way all the work carried out as an Inspection Entity and to assure our clients a 360º service in environmental matters.
The ENAC Accreditation as a testing laboratory is complemented with other certifications and approvals by the different Administrations that make us the reference network of environmental laboratories at a national level.
Specialization and fields of activity
Maximum reach, maximum specialization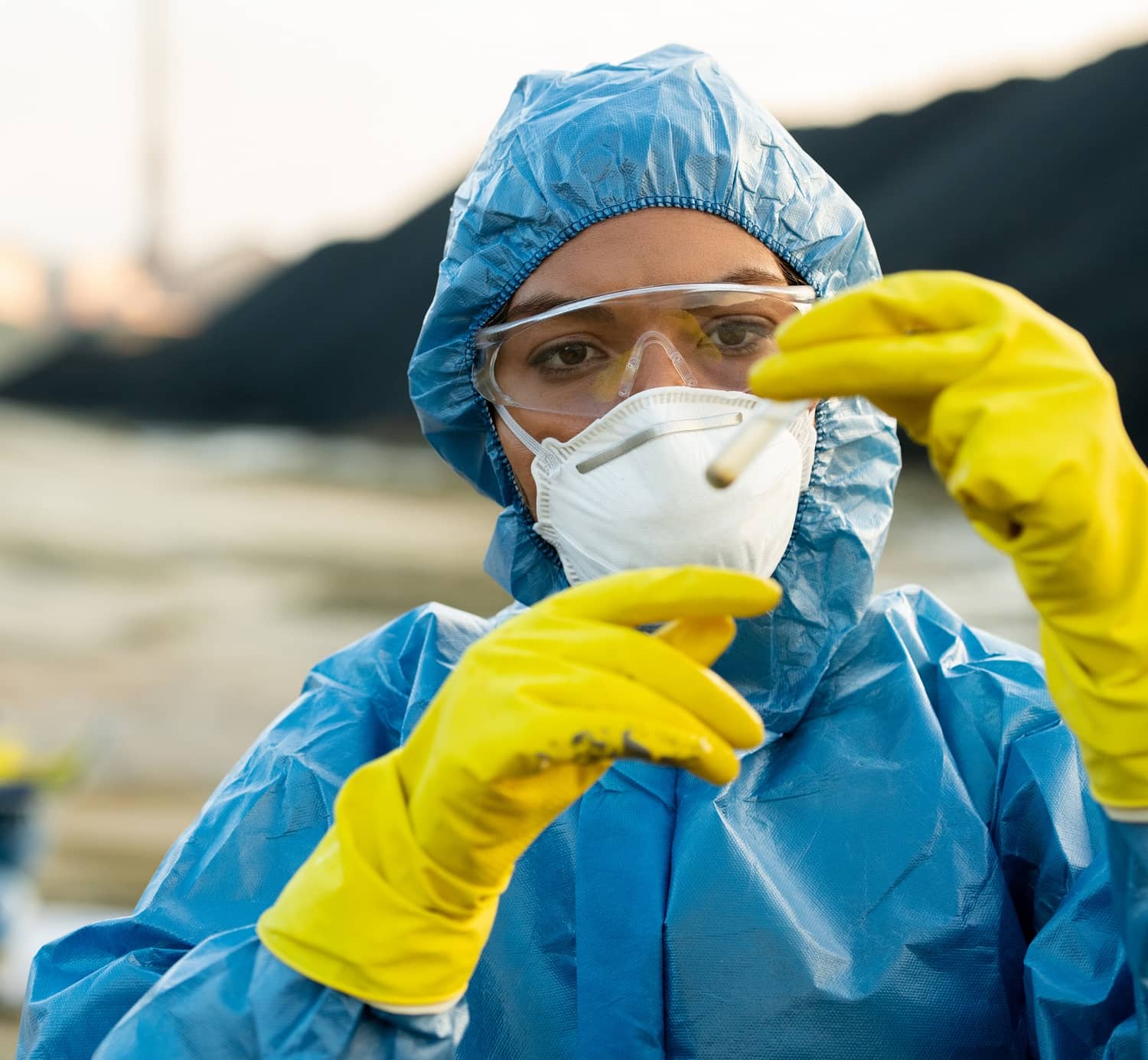 What differentiates our Accredited Inspection Entities?
We have a network of centers distributed throughout the national territory with ENAC accreditation to perform accredited environmental controls, which makes us an environmental reference in multiple sectors and areas.

The direct relationship with our customers is our "seal of identity". We work daily to offer the highest quality in our service and therefore, one of our main goals is the rigorous compliance of delivery times. In addition, we give individualized responses to emergencies, unforeseen events or specific requirements to our customers so that they always have the most efficient response possible.

Highest quality of service

Our accreditations endorse our effort to offer the highest quality service. We work under demanding quality standards to offer our services with the utmost rigor and reliability.

Innovation and digitalization

Our centers have extensive equipment, equipped with the latest technologies on the market and the experience of its staff in the field of environmental inspection and control. Innovation and technology are two hallmark values of Eurofins Environment Testing Spain.

We have a large number of accreditations from ENAC and other organizations that allow us to guarantee our clients the maximum reliability and quality of inspections and controls.